Virtual Kicking | Life Group
This group is designed to provide a space for specialists to learn more about the Bible and develop their own faith. This group is non-denominational and is for anyone from any background or belief.
This group will be facilitated by Chris Pavasaris | Director of Faith Development. He is a former punter from UCONN and has a Master's in Divinity from Yale.
Contact Information:
Website: www.xapisstrategies.com
Email: chris@xapisstrategies.com
Ph: (617) 922-4735
____________________________________________________________________
Virtual Kicking Life Group
What: Designed to assist athletes in growing their personal faith in Jesus Christ.
Who: All specialists interested in exploring the faith.
When: Sunday Nights (6 Sessions)
Time: 8pm EST
Where: Zoom Call
Starts: Sunday, February 20
Cost: FREE
Register Here:
https://us02web.zoom.us/meeting/register/tZUvfuygpzIqGNPtKmYUN0r-jZW2oiJP3jqg
At Virtual Kicking, we are dedicated to developing the whole athlete.  Spiritual growth is a large component of the process.  Many of the top specialists in the NFL are very outspoken about their faith and trust in Jesus Christ.  Many of us are at different stages—some have never read the Bible, others have never been to church, while others practice their faith every day.  This is for everyone, no matter your place right now.  Through this platform, Virtual Kicking wants to provide resources/tools for anyone wanting to start or grow a relationship with Jesus Christ.
Develop your Faith
Suggestions for Prayer
Director of Faith Development | Virtual Kicking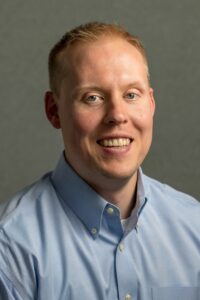 Playing Career
College: UCONN
Years: 2002-2006
Position: Punter
Chris Pasavaris is an executive coach specializing in leadership development. Meeting clients where they are,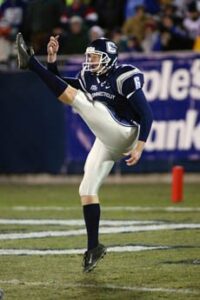 Chris works with leaders at all levels to become their most authentic selves and to unhook from situations that limit their potential.  Chris has worked with individual contributors and managers in several industries including non-profit, financial services, and healthcare organizations.
Chris comes to coaching after careers in politics and ministry.  Prior to earning his Master of Divinity from Yale University, Chris worked as a legislative staffer on Capitol Hill for Senators Lieberman and Rockefeller specializing in environmental and transportation policy.  After working with individuals and families as a chaplain in a critical care setting, Chris sought a more effective way for organizations to support their most valuable asset: their employees.
Chris continues to offer a range of services to his clients including spiritual direction, individual coaching for growth and change, and multi-rater narrative 360 assessments and de-briefs.  Chris lives in Massachusetts with his wife, Meghan, and their two children Clark and Simon.
Contact Information:
Website:  www.xapisstrategies.com
Email:  chris@xapisstrategies.com
Ph:  (617) 922-4735
Strategies for reading the Bible